Vanessa Martnez Lagunas lobbies for Grassroots Soccer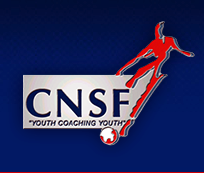 Vanessa dropped us a short message about her busy year.
I have been invited by Ralf Peter (who was my instructor during the German A-Coaching License in December 2008 and current Head Coach of the U16/U17 German Women's Soccer National Teams) to help out as assistant coach during some training camps. This has been a wonderful learning experience for me.
I have also been appointed by FIFA as a women's football and grassroots instructor. This has been a great honor for me and allows me to share my knowledge and experience to other coaches in different parts of the world. I have conducted five international coaching courses so far and I have discovered that I love teaching other people while at the same time contributing to the further development of my sport.
I have conducted 5 coaching courses for FIFA so far:
1) November 2008 in New Zealand during the first ever U-17 Women's World Cup (Women's Football Technical Course)
2) May 2009 in Malta (Women's Football Technical Course)
3) August 2009 in the Czech Republic (Women's Football Technical Course)
4) November 2009 in Tunisia (Women's Football Regional Seminar)
5) December 2009 in Chile (Women's Football Regional Technical Course)
My next scheduled courses are:
1) May 2010 in Namibia (Grassroots Technical Course)
2) July 2010 in Germany during the U-20 Women's World Cup (Women's Football Technical Course)
The FIFA Grassroots Program targets boys and girls aged 6-12 years through school, community and club initiatives. The main objective of this program is to introduce football to as many children as possible and use it as platform for social integration, health education, and fight against racism or social discrimination. During Grassroots Courses we teach coaches to always respect the children's physical, physiological, and psychological characteristics and teach them the game through play ("The game is the best teacher") emphasizing relationships, team spirit and fun. We also teach them how to organize football festivals and tournaments in which a large number of children can participate. You can find more information about it at the following link: http://www.fifa.com/aboutfifa/organisation/grassroots/index.html
My plans regarding the UEFA Pro-License through the German Soccer Federation (DFB) are still current. So if everything works well, I will start this license in June 2011 and it will have a duration of 9 months. However, I need to work very hard in order to complete my PhD before this month. Only in this way I will have the time availability to attend this course. The knowledge and experiences that I am gathering through my work with the Youth German National Teams and with FIFA will also help me to meet the admission requirements for the UEFA Pro-License.
So far this are the most important news for you. Thank you very much again for all your support, without it I would have not achieved any of these things.
My best regards to you from Germany,
Vanessa :)